Alexander Thompson
International Relations
International Organization and Law
International Environmental Politics
International Political Economy
U.S. Foreign Policy
I have research and teaching interests in international relations, especially in the area of international institutions and cooperation. My book, Channels of Power: The UN Security Council and U.S. Statecraft in Iraq (Cornell University Press, 2009), asks why powerful states often conduct coercive foreign policies through international organizations. I provide an information-based explanation and assess my arguments by looking at U.S. policy toward Iraq from 1990 to the current intervention and its aftermath. Channels of Power won the International Studies Association's Chadwick F. Alger Prize for the best book on international organization and multilateralism and the Best Book Award from ISA-Midwest.
Much of my research addresses issues of institutional delegation and design at the international level, with recent and ongoing projects on the design of the global climate regime, the politics of investment treaty ratification, the domestic politics of legalization in the WTO, the principal-agent dynamics of multilateral weapons inspections, the determinants of IO performance, and the enforcement of international law. I also write and speak on the question of unilateralism versus multilateralism in U.S. foreign policy.
I co-direct, with Sarah Brooks, the workshop on Globalization at Ohio State's Mershon Center.
The tabs to the right contain more information on my teaching and research, including links to most of my articles.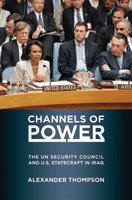 Click here to learn more about Channels of Power
Selected Publications
2009. Channels of Power: The UN Security Council and U.S. Statecraft in Iraq. Cornell University Press.
2014. "Multilateralism, Bilateralism, and Regime Design." International Studies Quarterly 58(1): 15-28. (with Daniel Verdier)
2013. "Delayed Ratification: The Domestic Fate of Bilateral Investment Treaties." International Organization 67(2); 355-87. (with Yoram Haftel)
2013. "Coercive Enforcement of International Law." In Interdisciplinary Perspectives on International Law and International Relations, edited by Jeffrey L. Dunoff and Mark A. Pollack. New York. Cambridge University Press.
2010. "Rational Design in Motion: Uncertainty and Flexibility in the Global Climate Regime." European Journal of International Relations 16(2): 269-96.
2010. "The Politics of IO Performance: A Framework." Review of International Organizations 5(3): 227-48. (with Tamar Gutner)
2006. "The Independence of International Organizations: Concept and Applications." Journal of Conflict Resolution 50(2): 253-75. (with Yoram Haftel)
2006. "Coercion through IOs: The Security Council and the Logic of Information Transmission." International Organization 60(1): 1-34. (Winner of the Robert O. Keohane Award for the best article of the year in International Organization by an untenured scholar.)
2006. "Screening Power: International Organizations as Informative Agents." In Delegation and Agency in International Organizations, edited by Darren Hawkins, David Lake, Daniel Nielson and Michael Tierney. Cambridge University Press.
2006. "Management under Anarchy: The International Politics of Climate Change." Climatic Change 78(1): 7-29.
Curriculum Vitae (pdf)